As a gift for your loved ones,

The best outdoor fan brings cooling, chilly breeze during this hot summer!
A Sight Breeze Around Your Neck -- Compact and Portable, Pick It Up and Go!
Features
✅HANDS-FREE DESIGN & FASHION: Hand free fan was designed as a headphone to free your hands anywhere;Fashion style makes you look so cool and you can take it anywhere in hot weather.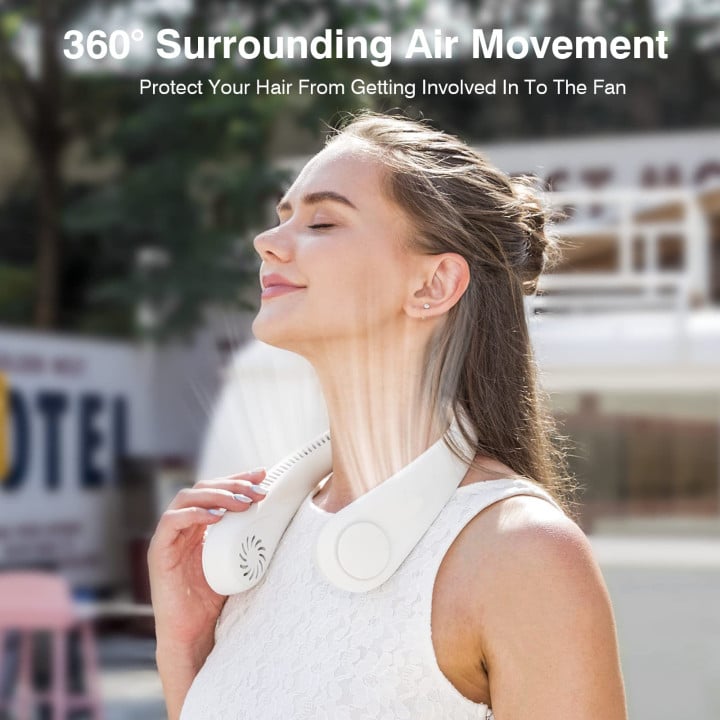 ✅SAFETY & 42 AIR OUTLETS:  A novel neck fan that can send the wind without clogging your hands by simply placing it on your neck. Designed without wings, it can be used safely by children and the elderly. When using the fan, you don't have to worry about your hair getting caught on the fan blades. With 42 air outlets around the neck, it can be used for the entire face around, which products enough air to keep you cool always. It is also ideal as a companion for working in hot weather.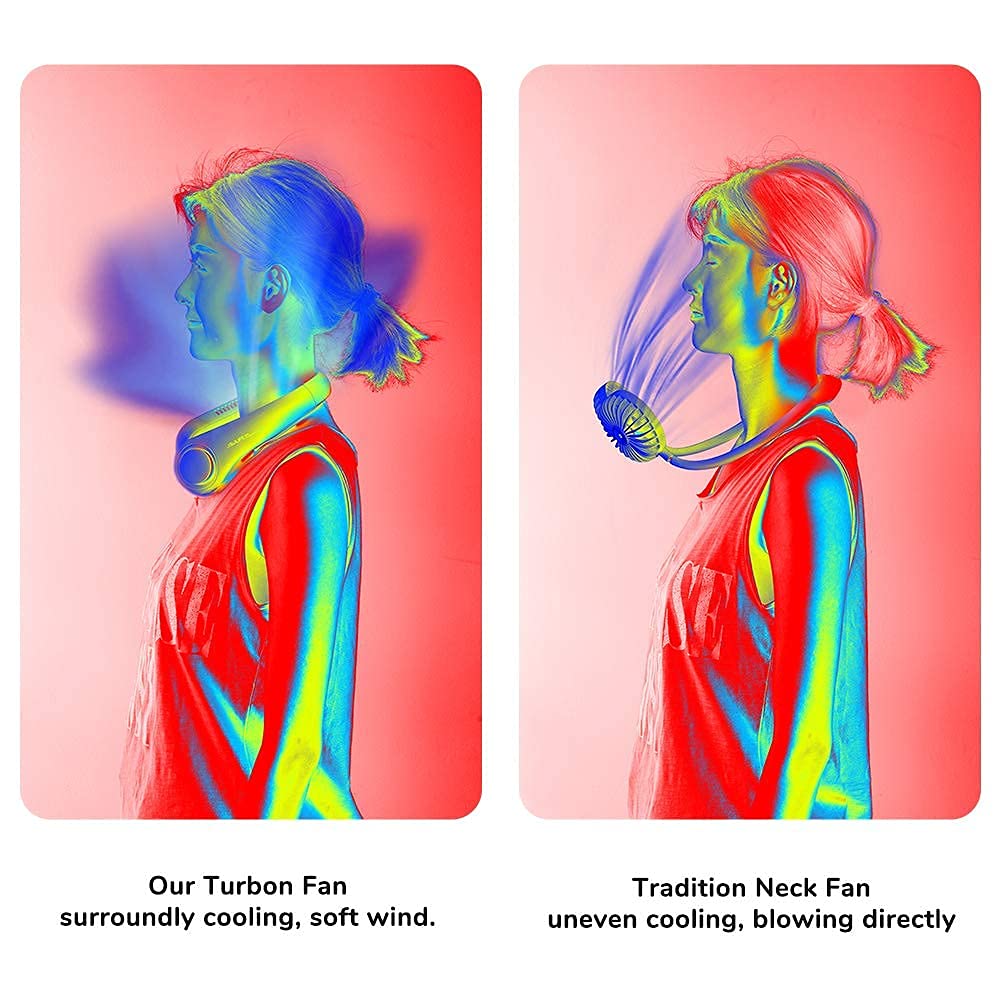 ✅LOW NOISE DESIGN & COMFORTABLE: The wearable neckband fan's motor has been modified so that noises of less than 36 dB can be generated while running. It is quiet enough to hear your own breath. Made of Eco-friendly ABS & electronic component. Makes the hands free neckband fan softer and more durable and quieter.
✅3-6 RUNNING HRS & 3 SPEEDS: Provide 3-6 working hours duration (depending on different speeds). Adjust appropriate fan speed by pressing the power button repeatedly.
✅COMPACT DESIGN & WARRANTY: Personal neck fans weigh about 11.64OZ  and are ultra-light, putting less strain on the neck.
Wide Range of Applications: Use for both indoor and outdoor activities, Office, Subway, Traveling, Camping, Picnic, Hiking, Cooking, Study room.
Specification
Product Weight: 330g

Voltage Working Range: 5-9 (V)

Wattage: 5 Watt

Capacity batteries:1200mAh

Running Time: 3-6 hours

Interface Type: USB-C

Dust and sweat proof

Size: 197*175*60mm
WHAT'S INSIDE THE PACKAGE?
Hands-free Personal Fan.

USB Charging Cable.


2023 NEW VERSION
The latest neck fan in 2023, the design is inspired by headphones. It is both good-looking and cool. With thorough research on mechanics and wind direction, we design this irregular multi-outlet neck fan with dual vortex energy leafless movement and wind power. Stronger and quieter, it allows the head to enjoy a 360-degree surround-style cool breeze, quickly cooling down, and effectively solving the annoyance caused by sultry heat.
Portable Neck Fan
Features:
The USB is easy to charge, portable and user-friendly

3Lv Air volume, according to your needs, press the power button to adjust the appropriate wind speed.

Leafless design, safer and quieter, You won't have to worry about your hair getting stuck by the fan's leaves, children and adults can rest assured to use.

The middle of the neck fan is connected with food grade silica gel, which is soft and skin friendly. The angle and width of the fan can be easily adjusted.
Product list: 1 neck fan , 1 USB charging cable , 1 copy of operation manual
The battery is made of new low consumption materials, lighter and more durable, 2400mAh, with a service time of 2 to 6 hours.

The newest upgraded neck fan adds a cooling module to keep the battery and motherboard cool, so that the fan will not heat up due to long-time operation.
The newest upgraded neck fan adds a cooling module to keep the battery and motherboard cool, so that the fan will not heat up due to long-time operation.
FlexFive
Product specifications:

Product Name:leafless neck fan

Product weight: 7.76OZ

Battery capacity: 2400mAh

Material: silicone + ABS + PC

Running time: 2-6 hours

Interface type: Small-C
Irregular air outlet

Neck Fan uses irregular air outlets to effectively disperse the flow direction of the wind, so that our neck, face, and entire head can clearly feel the cool breeze, allowing the body to cool down quickly, and can solve the troubles caused by the sultry heat in time .

Vaneless movement

The portable neck fan adopts a double vortex energy leafless design, which is good-looking and effectively prevents the hair getting stuck by the fan's leaves, which is especially important for children and pets.

USB small C charging interface

Charging interface uses the most commonly used USB small C, convenient and fast.
360 surround type cooling

According to the research on mechanics and wind direction, our fan is 4cm longer than other models on both sides, and is embedded with silica gel to make the whole fan to be closer to the body, allowing the wind to continuously stack from the bottom to the top through the air outlet to feel the wind around. The ring-type heat dissipation makes the body feel cool quickly and reduces the temperature swiftly.

3-Speed Adjustable

Neck fan is equipped with three-speed wind speed, one-key adjustment, you can adjust the wind speed according to your needs.

360° degree twist

The food-grade silicone material be added to the middle body,friendly to the skin, strong flexibility, 360° degree twist,and it is not easy to break,The width and angle of the fan can be adjusted freely.
Free your hands, Enjoy life better
With a neck fan, not only is there a cool breeze, but our hands can be free to hold our loved ones and children, support the elderly, do housework, cook, work, and go out for sports, running, cycling with family and friends, mountain climbing, camping, giggles...
Let us enjoy life better!